The holiday shopping and shipping season has come to an end. With what we're going to show you now, it's important to remember that during that time of year, everyone who is responsible for getting your package from Point A to Point B is working harder than they do the rest of the year, and with a work volume that skyrockets. Being under that much pressure to make sure everyone's items arrive on time can certainly force people to rush, and, well, make some less than stellar judgments with other people's packages.
Like, say, for instance, chucking it at the door instead of placing it gently down on the ground.
Redditor "CaptainCanadian9" posted that picture on New Year's Eve with the title "Big shout out to Amazon for taking a pic of my package delivery mid throw." The top comment on the reddit thread is someone commiserating with CaptainCanadian9.
Not that any of us would be thrilled to see our package being tossed like this, but that being said…It is pretty impressive, one has to admit, that the driver was able to capture the package heading toward the door. Hopefully it wasn't anything valuable or irreplaceable in the bubble envelope, but in terms of sheer digital image taking prowess, you have to give this driver major props. Assuming nothing was damaged in the package, it's clear that even CaptainCanadian9 wasn't too upset with how it was handled.
CaptainCanadian9 even posted footage from his doorbell camera of him picking the envelope up off his second step, so you know that the driver didn't wedge his package into the doorjamb.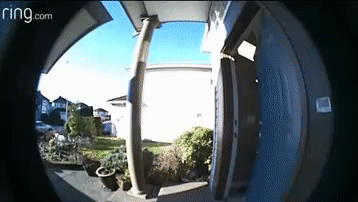 All kidding aside, Amazon probably needs to do something to address this issue. Chicago's CBS affiliate covered another similar incident, caught on a doorbell cam.
In fact, searching for "thrown Amazon packages" will bring you a bevy of videos, like this one. Again, we all know that drivers are working hard and trying to get their packages delivered on time to satisfy those of us waiting at home for them. People cut corners all the time, but unfortunately for delivery drivers, more and more people are installing cameras on their front porch, so these types of videos will only increase in frequency if it's not addressed internally.
---
Writer/comedian James Schlarmann is the founder of The Political Garbage Chute and his work has been featured on The Huffington Post. You can follow James on Facebook and Instagram, but not Twitter because he has a potty mouth.